Hvordan er du endt med at skrive om netop dette emne? Arbejder du inden for det område, du skriver om? Hvilken idé ligger bag bogprojektet?
Since arriving in Denmark in 2000, I've worked in corporate communications. Danes speak excellent English, but it's not perfect, and I found myself correcting the same small mistakes over and over. When I started my own business in 2014, I put together a list of "Top 10 Mistakes Danes Made in English" that went viral on the Internet. Later, it became a LinkedIn blog post that had more than 35,000 views. I figured there was a market for a book there.
Hvor lang tid gik der, fra du fik idéen, til bogen blev udgivet?
The original Internet meme came out in 2014, and in late 2015, I started to put together a follow-up of "10 More Mistakes Danes Make in English." As I was doing so, I thought – why not add a few more and make a book? That was in January, and the book was published in June. The writing took a couple of months, and then I paid three separate copyeditors to look at it – one for content, one to make sure the Danish references were correct, and one final view for typos. Layout took a couple of weeks, and then I did a version in BOD Fun so I would have a galley. I made a few small changes and then uploaded to BOD Classic.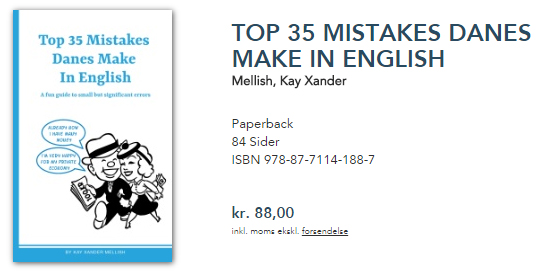 Forfatteren
Amerikanskfødte Kay Xander Mellish er uddannet journalist og rådgiver som kommunikations-konsulent danske virksomheder i brugen af engelsk. Hun har udover "Top 35 Mistakes Danes Make In English" udgivet bogen "How To Live In Denmark", som er udkommet på flere sprog.
Læs mere på forfatterens hjemmeside
Hvornår begyndte du at gøre dig tanker om at markedsføringen? Allerede imens bogen opstod eller først, da den var udkommet?
Based on the success of the Internet meme, I believed there was a market for the book. But I was surprised at how successful it was. I had people looking up my telephone number online to call and ask me for copies. Some people even came by my house to pick them up. The book reached #2 on the Saxo bestseller list, and one bookstore in Copenhagen bought 90 copies.
Hvordan planlægger man markedsføringen af en bog? Har du fulgt en bestemt "opskrift", eller er det meste kommet tilfældigt og hen ad vejen?
I run two businesses now, both my original communications business and a separate speaking business, so I knew that I didn't have time to promote the book well on my own. I hired a PR bureau, and while their upfront fee was a hard pill to swallow, they did their work extremely well. In retrospect, the book wouldn't have been successful without them. The only thing I did was to prepare for and show up for every interview and promotional opportunity I was offered. I knew the promotion would be focused on a specific couple of weeks, so I cleared my schedule to be available for interviews whenever a journalist had time or interest. I also got a fresh haircut and an outfit suitable for TV ready to go. That paid off too: Aftenshowet called me one morning and asked if I would be on the show that night, and it was easy to say yes.
Kan du nævne noget specielt i forbindelse med markedsføringen af din bog, du ikke kommer til at glemme? Hvilken positiv feedback kan du nævne i denne sammenhæng?
I really enjoyed getting input from the many people who had read my book, and finding out which parts had impacted them and how. If I could go back in time, I think I might write the book a different way, emphasizing the parts people found most helpful.
Med BoD's gratis service "Internationalt salg" er dine bøger også tilgængelige på bogmarkedet i USA, Canada, Storbritannien og Australien. Hvad betyder denne mulighed for dig som forfatter til engelsksprogede bøger?
I find it very useful that my book can be sold all over the world, because Danes living outside of Denmark have a particular interest in speaking English well. My previous book, How to Live in Denmark, is most popular with foreigners, and I often hear that people read it before they arrived in Denmark and found it helpful. Books on Demand's worldwide distribution makes that possible.
Hvorfor har du netop valgt at udgive dine bøger selv? Hvilke tanker ligger der bag valget af selvudgivelse?
I chose to publish on my own because I wanted the flexibility to devote as much time and energy to selling my book as I could. Most book publishers offer a set number of titles per season and put their publicity efforts behind the books they think will generate the greatest return. Small books like mine aren't likely to get much attention, and once their initial selling season is over they're often forgotten entirely. By publishing on my own, I was able to choose the timing of my book's release and give it the sales push I felt it deserved.
Hvilke tips eller råd om udgivelse og markedsføring vil du give andre forfattere?
I would say that authors should be ready to invest in professionals to make sure that their book looks its best. Have a professional profile photo taken for promotional purposes, and get a professional designer to do the cover and layout. I use upwork.com a lot for this purpose, since it puts you in touch with professionals from all over the world. My designer is in Poland. You also need to invest in at the very minimum one copyeditor, and probably a proofreader as well. There's nothing that makes a book look more amateur than typos and misspellings, and you'll lose your readers' trust if you make obvious misstatements in fact. And I would say you should be ready to leverage social media, particularly online groups that will have a natural interest in your book. You shouldn't feel embarrassed about promoting your book – hopefully you have something that that will really make people's lives easier, or will give them new insights, or great entertainment. When you put a book like that into the hands of interested buyers, you're providing a service.